Space Jam 20TH Anniversary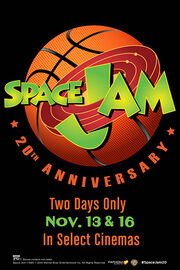 For more information on the 1996 film Space Jam, see Space Jam.
Space Jam 20TH Anniversary is coming in 2 days of November between 13TH and 16TH. For more information on the 1996 film Space Jam, see Space Jam.
In February 2014, Warner Bros. announced a sequel, set to star professional basketball player LeBron James. Charlie Ebersol will produce through his production company, The Company, with a script by his brother, Willie Ebersol. Jon Berg will executive produce. Representatives of James denied the claim that he would be involved, but rumor has it that it may still be in development. In May 2014, LeBron was quoted as saying, "I've always loved Space Jam. It was one of my favorite movies growing up. If I have the opportunity, it will be great." Further rumors are that James or Kevin Durant may also star as new Monstars.
In 2016, it was announced that a sequel is in the works and will star LeBron James. It is unknown if it will use any of the ideas from the cancelled sequel.
Bugs and Lola Bunny celebrate there 20 years of being together by also celebrating 20 years of Space Jam where they first meet.

Production Art
Videos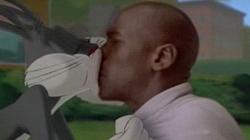 Ad blocker interference detected!
Wikia is a free-to-use site that makes money from advertising. We have a modified experience for viewers using ad blockers

Wikia is not accessible if you've made further modifications. Remove the custom ad blocker rule(s) and the page will load as expected.