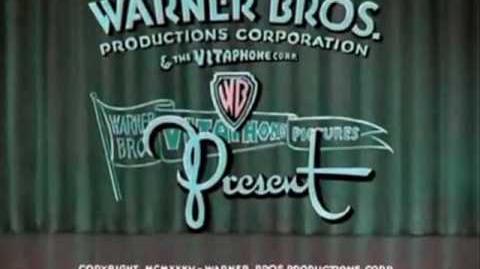 Old MacDonald Had A Farm is a 1935 Merrie Melodies cartoon short directed by Ben Hardaway. It was the debut cartoon of George the Bear. Despite the fact this was his first cartoon, many people believe that Porky's Pals was the first "true" cartoon to the character.
As the cartoon opens with the 1934 intro (see in the video placeholder), we hear the title song playing in the background. We then see a cute version of George with his backpack wandering off to the city to get some money for his mother. He then sees a sign that says "WIN THE BIG-SINGING CONTEST! LET YOUR INNER VOICE OUT!" He then decides to enter the contest and started singing after some other contestants fail to do so. But after he started to sing a song, the judges liked it. He starts coughing, and ends up getting disqualified. He starts feeling very sad and runs off. This started to make the judges feel terrible. So they tried to get George back, but he refuses to go back and sing another song. The judges apologized to him, and George reluctantly does it. He starts coughing again after his song was finished, but he wins the prize money anyway. In the end, everyone cheered for George with the prize money inside a golden cup.
Availability
Edit
The cartoon was restored and uncut, and is available on Looney Tunes Fanon Collection Volume 1.
Ad blocker interference detected!
Wikia is a free-to-use site that makes money from advertising. We have a modified experience for viewers using ad blockers

Wikia is not accessible if you've made further modifications. Remove the custom ad blocker rule(s) and the page will load as expected.