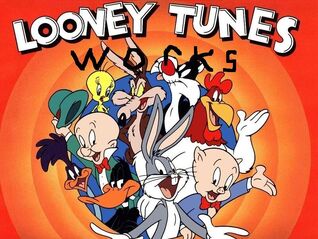 Looney Tunes Works
is a
Looney Tunes
spin-off series that ran on Cartoon Network for 2 seasons from 1999-2001. The show features some new
Looney Tunes
cartoons in 2d animation featuring the original classic characters (as well as
Lola Bunny
). Some of the cartoons were then later shown in episodes of the T.V. series
Bugs Bunny's House of Toons
. It is based on
Mickey Mouse Works
.
Looney Tunes Works was created to recreate the golden age of Looney Tunes/Merrie Melodies starring the original characters plus new characters. Each half hour episode includes 3 new animated cartoons that are 12 minutes long. Not all episodes were included in House of Toons but most were.
Characters
Edit
Bugs Bunny (voiced by Billy West)
Lola Bunny (voiced by Kath Soucie)
Daffy Duck (voiced by Joe Alaskey)
Porky Pig (voiced by Bob Bergen)
Elmer Fudd (voiced by Billy West)
Wile E. Coyote (voiced by Bill Farmer)
Road Runner (voiced by Frank Welker)
Foghorn Leghorn (voiced by Bill Farmer)
Yosemite Sam (voiced by Maurice LaMarche)
Tweety (voiced by Pamela Segall Adlon)
Sylvester (voiced by Joe Alaskey)
Granny (voiced by June Foray)
Taz (voiced by Jim Cummings)
Speedy Gonzales (voiced by Billy West)
Pepe Le Pew (voiced by Rob Paulsen)
Marvin the Martian (voiced by Neil Ross)
Cecil Turtle (voiced by Rob Paulsen)
Season One
Edit
1.Rabbit "n" Duck/Porky's Bakery/Sylvester Gives Up
2.Computer Wabbit/Revenge Of the Duck/TV Of Time Traveling
3.Fur Trek/Stop That Martian/Duck Doders Returns
4.Marooned Coyote/Looking For the Coyote/Happy Birthday Bugs
5.Carrot Cake/Taz Chaos/I Tawt I Taw a Slapstick Wack
6.A Very Looney Prom/Blue Fever/Delivery Boy's
7.A Fine Day Out/Looney Tunes Picnic/Laws Of Physics
8.Duck Trouble/This Is a Recording/Ready Set Beep
9.Spooks Up/Witchy Wabbit/It's the Green Pumpkin Porky
10.Santa Coyote/A Very Looney Christmas/Gift Of the Magi
11.Chase Switch-Over/Poor Mr. Porky/Putty Tat Strikes Again
12.Car Wash/Super Looney Tunes/Coyote-Man
13.Oh You Chicken/Get That Loudmouthed Rooster/Zookeeper Coyote
Season Two
Edit
14.Video Game Wabbit/Beep Zip/Tasmanian Showdown
15.Revengeful Sam/Garlic Bread Bunny/Porky's Pizza
16.Daffy the Ninja/Zoom Go Zoom/Wile E. Bowling
17.Extreme Coyote/Wile E. Sports/Shark Teeth
18.Bugs and the Seagull/The Toon Song/Putty Tat Issues
19.Duck Seasoning/Two Wabbit's/The Land of Ow
20.Elmer's Pet/Roller Coaster Coyote/Turkish Coyote
21.Sheep-Sheep Wolf, Sheep Wolf/Water Park Banzi/Porky Fools
22.A Beep In Time/Wile E. Coyote Mystery/Bugs's New Bike
23.Looney Road Race/Train Track Capers/Looney Beach Party
24.Bird Brained Coyote/Bugs Gets a Haircut/Daffy's Pool
25.Bugs the Cupcake Maker/Wile E. Easter Bombs/I Hamburger Cows
Ad blocker interference detected!
Wikia is a free-to-use site that makes money from advertising. We have a modified experience for viewers using ad blockers

Wikia is not accessible if you've made further modifications. Remove the custom ad blocker rule(s) and the page will load as expected.